Hudson Terrace is one of NYC's Top Rooftop Venues!!!
​
Hudson Terrace is comprised of two floors. The rooftop is a gorgeous space with panoramic views of the Hudson River and the Intrepid. Therer is a retractable glass roof, which can be opened partially, fully or not at all depending on the weather. The second floor, called the salon, is a beautiful indoor space with gorgeous red furniture and LED Lighting. Outside of the Salon there is an outdoor patio which is great for happy hours and corporate gatherings during the summer months
​
Hudson Terrace offers great bottle and table packages for Birthdays. Customers can also choose not to purchase a table and just enter the venu as a regular admission patron. The music is always fantastic, with top djs spinning top 40, EDM, house, and mashup. Hudson Terrace's staff is very professional and courteous.
ThatNight.com recommends Hudson Terrace as one of its premier Birthday Booking Venues and we look forward to helping you plan your birthday at Hudson Terrace soon.
Please click below to plan your next party with us!
Rooftop Sunset
Rooftop
Rooftop Nightlife
Salon
Salon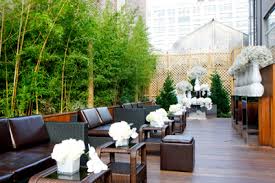 Patio